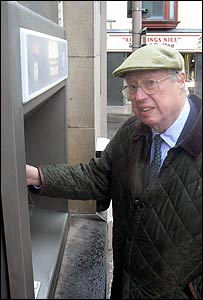 John Shepherd-Barron
John Shepherd-Barron (23 June 1925 – 15 May 2010), inventor of the first automated teller machine (ATM machine), died on Saturday in a hospital in northern Scotland. He was 84.
Mr. Shepherd-Barron went to work for the security printing company De La Rue Instruments in the early 1960s, eventually becoming the company's Managing Director. He first envisioned the idea of a cash-vending machine after missing the opportunity to withdraw cash from his bank one Saturday morning when he arrived one minute after the bank closed its doors for the day. His idea to provide around-the-clock access to his funds was founded on the same premise as chocolate vending machines: the customer put their money into a slot on the machine and a chocolate bar was vended. His invention - the first ATM machine - incorporated special checks chemically imprinted with the radioactive compound carbon-14 which were scanned against a 4-digit personal identification number. The customer inserted the check into one drawer and their cash was vended through a different drawer. This check system pre-dated the use of plastic cards with magnetic strips. The first such ATM machine was installed outside Barclays Bank in north London on June 27, 1967.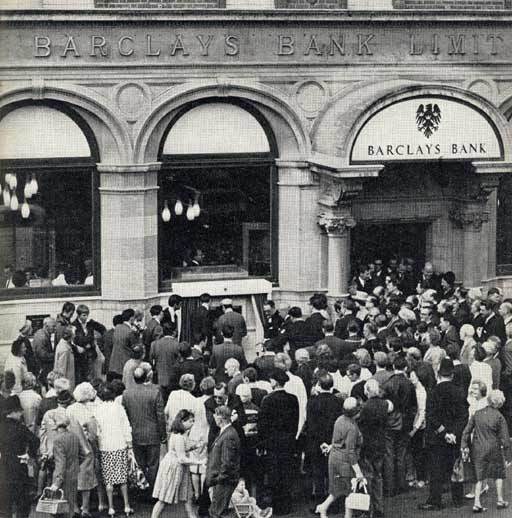 Site of First ATM installed at Barclays Bank
outside North London in 1967
In recognition and honor of his contributions to the ATM industry, Mr. Shepherd-Barron was presented with a Lifetime Achievement Award by the ATM Industry Association (ATMIA). According to the ATMIA, over 1.7 million ATM machines are in operation world-wide. He was also honored to be made an Officer of the Order of the British Empire for his services to banking.
Mr. Shepherd-Barron was educated at the University of Edinburgh and the University of Cambridge. He married Caroline Murray, the daughter of Sir Kenneth, the former chairman of the Royal Bank of Scotland. He is survived by his wife, three sons, and six grandchildren.
At ATMequipment.com, we join with members of the ATM and banking industries across the world in expressing condolances to Mr. Shepard-Baron's family, as well as our gratitude and appreciation for his foresight and lifetime of contributions.
Click Here to view the announcement posted in Scotland's The Daily Record.
-About ATMequipment.com-
ATMequipment.com, a Grant Victor company, is North America's leading wholesale supplier of retail ATM Machines, Parts, and Supplies. The company has an extensive repair service center and repairs most brands of ATM components. ATMequipment.com is a leading supplier of cost-effective wireless ATM communication solutions. The ATMequipment.com website and call center provides ATM Operators with superior customer service and one-stop shopping for everything needed to operate an ATM business. ATMequipment.com is a distributor for Nautilus Hyosung, Hantle (formerly known as Tranax), Triton, and NCR. For additional information go to http://ATMequipment.com.