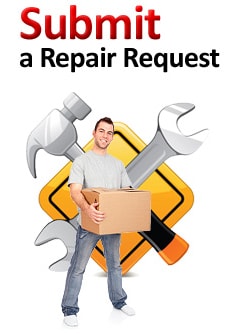 Submitting a Repair Request is quick
and easy with ATMequipment.com's
Online Certified Repair Center
ATMequipment.com, North America's leading wholesale supplier of retail ATM Machines, parts, supplies, and repair services today announced it has launched an advanced online ordering and tracking system allowing customers to
quickly initiate a repair order
and then track and monitor the repair status completely through its Certified Repair Center.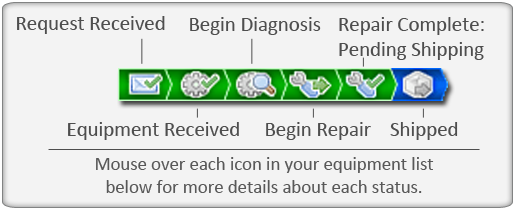 Customers can see the status of repairs
in all stages of the repair process.
ATMequipment.com's repair center provides high quality repair services for retail ATM machine components from nearly all makes and models. The new monitoring system allows customers to initiate an order at no cost, provides an automatic order confirmation that can be printed out as a label for the part, and then lets customers track and monitor repair status and delivery.
"We're always looking for new ways to provide greater service and convenience for our customers," said Alicia Ridley, president of ATMequipment.com. "This new system makes it easier to place a repair request and removes questions on the status of their part repair with a visual, user-friendly monitoring system. Customers can easily monitor the status from order placement to return delivery of the part."
Skilled and certified technicians with years of qualified experience who believe in the company's mission to do the job right staff ATMequipment.com's repair system. The center maintains an extensive inventory of parts helping ensure fast turnaround of repairs—usually within 24 to 48 hours.
ATMequipment.com also offers competitive flat rate pricing for most component parts outlined on its Parts Repair Pricing Web page. The company only charges for the repair once it is fixed with no upfront or hidden fees.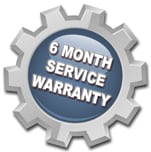 In addition to repairing the part, the company provides added value by cleaning the component, conducting a 10-point inspection and providing a 6-month warranty on the repair.
-About ATMequipment.com-
ATMequipment.com, a Grant Victor company, is North America's leading wholesale supplier of retail ATM Machines, Parts, and Supplies. The company has an extensive repair service center and repairs most brands of ATM components. ATMequipment.com is a leading supplier of cost-effective wireless ATM communication solutions. The ATMequipment.com website and call center provides ATM Operators with superior customer service and one-stop shopping for everything needed to operate an ATM business. ATMequipment.com is a distributor for Nautilus Hyosung, Hantle (formerly known as Tranax), Triton, and NCR. For additional information go to http://ATMequipment.com.